Foundation Repair Service in Greater Knoxville and Surrounding Areas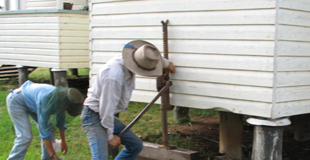 When it comes to foundation repair, Trusted Waterproofing has the answer.
Most foundation problems tend to come from the soil underneath it, crawl space problems and leaking pipes, but there are many other causes that could affect your foundation and cause damage.
When handling foundation repair jobs, preparation is key. Before beginning any job, we will locate the cause of the problem and determine the best solution before designing a solution for your home.
Types of Foundation Repairs we Offer
Foundation Waterproofing
To prevent damage from water, moisture, leaking pipes and other water-related disasters that cause your foundation to crack, we can install a waterproofing system that prevents any kind of water from ever entering your property while also keeping your foundation safe.
Foundation Stabilization
In order to prevent your foundation from settling and sinking, we can stabilize your foundation with wall anchors, braces and other similar techniques.
Crawl Space Joist Support
Since your foundation and crawl space share the same location, they will also share any issues that arise. So if one experiences a problem, the other will as well and if your foundation becomes damaged because of your crawl space, we can install a steel post beneath the central beam to provide a solid mid-span support for floor joists, in order to repair the situation.