Warrantied Drainage Systems in Greater Knoxville and Surrounding Areas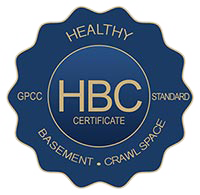 Most people have heard the term "French Drain", and think of that being the best strategy for removing water from a flooded basement. And, maybe they are on to something!?! French drains have been around for over one hundred years, and we still use the premise today. Similar to the French Drain concept, the best way to fix a wet basement today, is to have a full-perimeter interior drainage system installed in your basement. Remove all ground water seepage, before it ever reaches your basement floor.
At Trusted Waterproofing, we provide homeowners with a custom designed drainage system to solve the unique problems each home is experiencing. No two homes are the same, so our drainage systems must be customized for each application. Our Grate Drain™ is patented and engineered specifically to keep water out of your basement or crawl space. Installation is quick and efficient with our experienced crews completing most waterproofing systems in less than two days.
After installation, your home is awarded its "healthy basement certification" as well as a fully transferable lifetime warranty. Now you can rest easy, with the peace of mind that your home is drier, healthier, and smells better.
Recommended Drainage Systems
We, at Trusted Waterproofing, offer a wide range of basement waterproofing products and patented drainage systems that will protect your home and your family. Our experienced project managers will custom design an interior perimeter drainage system, customized specifically for you.
We also offer the state-of-the-art, multi-patented GrateSump™ Sump Pump System.
Battery Backup Systems are also available, and are a must to keep your home dry and your family safe during thunder storms, when the power goes out.